Blogoversary!
It has been one year since I first started this blog, and boy has it been a lot of fun! To celebrate, I am doing three giveaways! Author McCarty Griffin has very kindly offered her three ebooks for this event – thank you!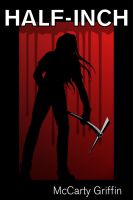 Half-Inch
Genre: women's lit, thriller
Published: October 14, 2010
Word count: 21457
Pammy has had enough of Bobby, her abusive drunk of a husband. One lovely spring day, she decides to kill him, despite the fact that they will soon be divorced and he will, at least in the eyes of the law, be out of her life for good. Indulging in homicidal daydreams for years has led her to devise her own perfect and completely bizarre plan.
_______________________________
Monster Story
Genre: horror
Published: November 4, 2010
Word count: 99319
Christy McCauley has returned to West Virginia at last, but her homecoming quickly turns into a surreal nightmare. In the deep hollows and woods of rural Augusta County, something unspeakable is slaughtering people in the dark of night. Authorities don't know if its human or animal, or how to stop it. Christy and her friends only know they must hunt it and destroy it, before it kills again.
______________________________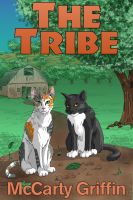 The Tribe
Genre: young adult
Published: May 1, 2011
Word count: 57764
The tribe has been alone on the farm for many seasons, struggling to survive by their wits and will, unaided by the humans who abandoned them there years ago. Few members of the tribe outside of Tia, the eldest, and her fiercely loyal companion Bella, remember a time when two-legs–the cats' name for humans–lived in the farmhouse.
(I recently read this book and will be posting a review within the next few days.)
______________________________
How to Enter:
You do not need to be a follower to enter.
Leave a comment with your name, e-mail address, and which book you wish to win.
Yes, you may enter to win all three books.
Entries close on Wednesday, June 22 at 11:59PM.
Winners will be e-mailed on June 23 and must reply to the e-mail in order to be sent the coupon code for Smashwords. If I do not get a response within 48 hours, another winner will be selected.
Thanks everyone!
No comments yet.
Reading Challenges 2012

Nastasha

has read 42 books toward her goal of 50 books.

Categories
I'm Everywhere!

5-Star Books


Nightrunner Series by Lynn Flewelling
Cut & Run Series by Abigail Roux
Harry, A History by Melissa Anelli
Latter Days by T. Fabris
Havemercy by Jaida Jones, Danielle Bennett
The Survivors by Amanda Havard
The Passage by Justin Cronin
Impossible by Nancy Werlin
Ender's Game by Orson Scott Card
2001: A Space Odyssey by Arthur C. Clarke
Coda Series by Marie Sexton
Lord of the White Hell by Ginn Hale
Darshian Tales by Ann Sommerville
Wicked by Gregory Maguire
Beastly by Alex Flinn
Mortal Instruments Series by Cassandra Clare