The Tribe Review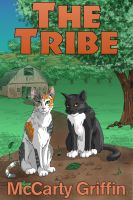 Smashwords Description:
The tribe has been alone on the farm for many seasons, struggling to survive by their wits and will, unaided by the humans who abandoned them there years ago. Few members of the tribe outside of Tia, the eldest, and her fiercely loyal companion Bella, remember a time when two-legs–the cats' name for humans–lived in the farmhouse. Suddenly, the tribe's territory is invaded by a young two-legs couple, and the frightened cats ask themselves why have two-legs come to live there after so many seasons and what will happen to the tribe at the hands of these often cruel creatures?
My Review:
Overall, this book is an enjoyable read, and I'm glad Griffin requested I review it.
I am a total pet lover, and I would definitely follow Susan's example if I were faced with the same situation she is – once I was done having a mini freak-out moment. I wouldn't be able to resist helping the cats, even though those in the book were managing all right without human help.
I have often wondered what animals would say if they had the means to talk to us in a verbal way, and this story makes me wonder that even more. Getting the story from both the perspective of the cats and the humans was one aspect of it that kept me reading. It was frustrating in some points to see how the cats just didn't understand that what the "two-legs" were doing was going to help them, but that is so realistic. I can't tell you how many times I wished my dog would understand my actions.
I have no complaints about the story at all. I enjoyed every moment of it. It was definitely worth the read!
Rating: 4/5
BLOG UPDATE: Please forgive me for not doing a Character Chat this week. I was planning on it, but I don't have enough time to write one up. I am working every single day this week.
No comments yet.
Reading Challenges 2012

Nastasha

has read 42 books toward her goal of 50 books.

Categories
I'm Everywhere!

5-Star Books


Nightrunner Series by Lynn Flewelling
Cut & Run Series by Abigail Roux
Harry, A History by Melissa Anelli
Latter Days by T. Fabris
Havemercy by Jaida Jones, Danielle Bennett
The Survivors by Amanda Havard
The Passage by Justin Cronin
Impossible by Nancy Werlin
Ender's Game by Orson Scott Card
2001: A Space Odyssey by Arthur C. Clarke
Coda Series by Marie Sexton
Lord of the White Hell by Ginn Hale
Darshian Tales by Ann Sommerville
Wicked by Gregory Maguire
Beastly by Alex Flinn
Mortal Instruments Series by Cassandra Clare