It has been one year since I first started this blog, and boy has it been a lot of fun! To celebrate, I am doing three giveaways! Author McCarty Griffin has very kindly offered her three ebooks for this event – thank you!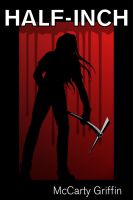 Half-Inch
Genre: women's lit, thriller
Published: October 14, 2010
Word count: 21457
Pammy has had enough of Bobby, her abusive drunk of a husband. One lovely spring day, she decides to kill him, despite the fact that they will soon be divorced and he will, at least in the eyes of the law, be out of her life for good. Indulging in homicidal daydreams for years has led her to devise her own perfect and completely bizarre plan.
_______________________________
Monster Story
Genre: horror
Published: November 4, 2010
Word count: 99319
Christy McCauley has returned to West Virginia at last, but her homecoming quickly turns into a surreal nightmare. In the deep hollows and woods of rural Augusta County, something unspeakable is slaughtering people in the dark of night. Authorities don't know if its human or animal, or how to stop it. Christy and her friends only know they must hunt it and destroy it, before it kills again.
______________________________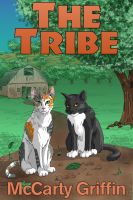 The Tribe
Genre: young adult
Published: May 1, 2011
Word count: 57764
The tribe has been alone on the farm for many seasons, struggling to survive by their wits and will, unaided by the humans who abandoned them there years ago. Few members of the tribe outside of Tia, the eldest, and her fiercely loyal companion Bella, remember a time when two-legs–the cats' name for humans–lived in the farmhouse.
(I recently read this book and will be posting a review within the next few days.)
______________________________
How to Enter:
You do not need to be a follower to enter.
Leave a comment with your name, e-mail address, and which book you wish to win.
Yes, you may enter to win all three books.
Entries close on Wednesday, June 22 at 11:59PM.
Winners will be e-mailed on June 23 and must reply to the e-mail in order to be sent the coupon code for Smashwords. If I do not get a response within 48 hours, another winner will be selected.
Thanks everyone!
Thanks to everyone who entered the giveaway! Random.org has chosen a winner!
Sassy
from Thrifty Sassy Mama
Just a reminder to everyone else, you can still buy the Kindle edition for just $0.99 for the rest of the month! So, if you didn't win, you can still get the ebook for super cheap! Click here.
Hosted by Angela from Reading Angel, Candace from Candace's Book Blog, Mary from The Book Swarm, and Lori from Pure imagination.
This party is basically a giveaway hop, but it's going to be so much more than that!
Now for the Carnival Part.  During the giveaway hop different blogs will be hosting booths.  Each booth will have a fun challenge for you to do to enter their giveaway!
Lori has the Kissing Booth and will be giving away Romance books.
Angela has the Haunted House and will be giving away Paranormal books
Mary has Rollercoasters and will be giving away a contemporary book.
Candace has the Food Court and will be giving away Giftcards (or books of winners choice).
Reading Teen has the Fortune Tellers Booth and will be giving away Witch Books.
~~~*~~~
Well, this month marks the one-year anniversary of the publication of The Angel, and what better way to celebrate than with a giveaway? Yes, you guessed it, I'm going to be giving away one signed copy of The Angel at the close of this wonderful Spring Blog Carnival – May 8th.
For those of you who stumbled here just for the Carnival, here's a little bit about the book:
Seth Salvadore-Knight knew that his family wasn't exactly "normal," but he didn't think his life was really all that different from other seventeen-year-olds'. There were no unusual difficulties in his life, just the average problems all teenagers experienced. That was, until he and his family moved to the town of Madison. Almost instantly the hatred began to show, through violent attacks against him, his family, and his friends. It is this violence, this hatred, that will forever change his life and the lives of those closest to him.
Alternative Description:
From his very first day at Madison High School, Seth is a witness to Brian's relentless bullying.
And from the beginning he sets out to protect the bully's victims.
But when Brian starts attacking Seth's friends, it gets personal.
Then Brian learns about Seth's gay parents.
That's when all hell breaks loose.
The final showdown will leave blood in the rain, shots echoing through the night, and lives in tatters…
If you wish to enter the giveaway, please just leave a comment with your name and e-mail address! (WordPress doesn't let me embed forms using GoogleDocs. Why didn't I go with Blogger?) USA only, please.
Oh, and I almost forgot! Also, in celebration of the one-year anniversary of The Angel, the Kindle e-book will be on sale for just $0.99, today through May 31st! So if you don't win the giveaway and still want to read the book, you will be able to get an e-copy super cheap.
To see the other giveaways being held for this event, click here. Again, WordPress won't let me post the linky code.
Reading Challenges 2012

Nastasha

has read 42 books toward her goal of 50 books.

Categories
I'm Everywhere!

5-Star Books


Nightrunner Series by Lynn Flewelling
Cut & Run Series by Abigail Roux
Harry, A History by Melissa Anelli
Latter Days by T. Fabris
Havemercy by Jaida Jones, Danielle Bennett
The Survivors by Amanda Havard
The Passage by Justin Cronin
Impossible by Nancy Werlin
Ender's Game by Orson Scott Card
2001: A Space Odyssey by Arthur C. Clarke
Coda Series by Marie Sexton
Lord of the White Hell by Ginn Hale
Darshian Tales by Ann Sommerville
Wicked by Gregory Maguire
Beastly by Alex Flinn
Mortal Instruments Series by Cassandra Clare